ad hoc music 2013
We are glad to announce the ninth edition of ad hoc music. This year's focus will be on exchange. Read more in the editorial. Our final concert:

Tuesday, 10 December 2013 - Jazzclub Unterfahrt
Schlippenbach Trio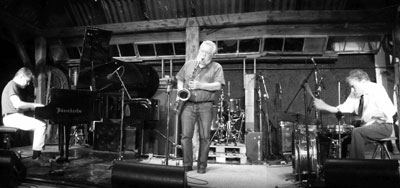 Alexander von Schlippenbach, piano
Evan Parker, saxophone
Paul Lovens, percussion
Photos © Hannes Schneider
The final concert of the ad hoc music series continues an old tradition. Pianist Alexander von Schlippenbach visits Munich during his annual winter journey with Evan Parker on saxophone and Paul Lovens on diverse drums and percussion instruments.
Now in it's 43rd year of existence, this group still has a lot to tell to each other - as could be heard and seen most recently in July at the Festival Konfrontationen in Nickelsdorf, Austria.
The Schlippenbach Trio delighted visitors of the festival across all generations with its electrifying, at once ecstatic and structured performance - avoiding all Monk quotations.
Entrance fee: 15 €, members of Förderverein Jazz und Malerei e.V. 7,50 €, members of Offene Ohren e.V. 10 €
Beginning of the concert at Jazzclub Unterfahrt: 9.00 p.m.
Organised by Förderkreis Jazz und Malerei München e.V.
The organisers would like to thank the Kulturreferat München for its continuous help allowing to present the ninth edition of ad hoc music.
Modifications may occur and will be published on this site.