Concerts 2008
The concert series ad hoc music has become a well-established part of the Munich music scene.
Staged for the fourth time in a row by an enthusiastic community of organisers, ad hoc music 2008 will present improvised music in all its fascinating variety.
The cooperation partners – Offene Ohren e.V., Jazzclub Unterfahrt, Klanggalerie t-u-b-e and the City of Munich, Department of Arts and Culture – will invite international stars and promising newcomers of the improv scene.
Look forward with us to a thrilling musical autumn 2008:
Friday, 10 October 2008, t-u-b-e Klanggalerie
Geisse — Janker — Schick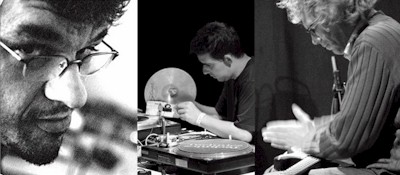 Georg Janker (nord modular G2, analog-synthesizer), Ignaz Schick (turntables, objects, electronics), Gunnar Geisse (laptop guitar)
Three specialists looking for new sonic dimensions. Their work is about creating cybernetic synergies and differentiating expressive possibilities of instruments and electronics. Versed in improv strategies, they use an idiosyncratic approach to playing and combining instruments. Each concert is a work in progress resulting in the unexpected and showing a snapshot of their researches into the border areas of acoustic perception.
Gunnar Geisse developed a personal hardware/software circuit - calling it laptop guitar - which allows him to continue his analogue way of playing in the digital realm. Georg Janker improvises on a virtual analogue sythesizer combining analogue sound production with new elements. Ignaz Schick uses a record player as an analogue sound source, preparing it with diverse objects. He calls his setup rotating surfaces.
Organised by t-u-b-e Klanggalerie
Tuesday, 21 October 2008, Unterfahrt
Charles Gayle Trio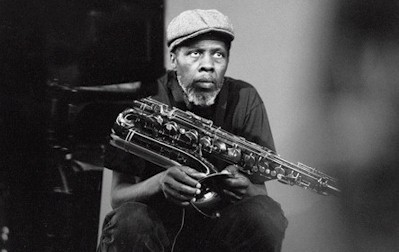 Charles Gayle (saxophone), Hilliard Greene (bass), Klaus Kugel (drums)
"Here is someone comparing himself to a boxer, a steel worker, a wrecking ball. Someone trying to lash about, to pour liquid fire into the factory din, to tear down walls, to move mountains. Someone protesting against the cold, against hunger and homelessness, against emptiness, petrification and loss of hope. Playing with evangelical fervour: inexorable, merciless, radical. Blaring sheer energy.
This man is Charles Gayle, born in Buffalo in 1939, the last prophet of free jazz. For twenty years he had to scratch along as street musician in New York, a martyr with saxophone, hungry, cold, shelterless. Sleeping on park benches and rummaging through garbage, he yelled at indifference." (Hans-Jürgen Schaal)
Over many concerts, the trio with bassist Hilliard Greene and German drummer Klaus Kugel has developed a stable chemistry which is able to sustain this highly extreme approach to music-making.
Organised by Jazzclub Unterfahrt
Sunday, 26 October 2008, t-u-b-e Klanggalerie
The Bosch Experience

Knut Aufermann (live processing), Børre Mølstad (tuba), Sarah Washington (circuit bending), Michael Feller (electronics), Gunter Pretzel (viola)
Coming from Germany, England and Norway, these five mavericks bring very diverse musical backgrounds to their project. The Bosch Experience is a musical borderline experience: live processing, feedback and circuit bending converge with the analogue sounds of tuba and viola to give up a strange and subtle blend.
Knut Aufermann (GER), Master of Sonic Arts at the Middlesex University, London, was the manager of the art radio station Resonance 104.4fm for many years. As a musician he is a highly regarded partner of a.o. Alvin Lucier, Lol Coxhill, Otomo Yoshihide, Sarah Washington and Phil Minton.
Sarah Washington (UK) studied Sonic Arts in London and devoted herself to building electronic instruments. Using these, she had numerous performances a.o. with Steve Beresford, Otomo Yoshihide, Toshimaru Nakamura and since 2001 in the Duo Tonic Train with Knut Aufermann.
Gunther Pretzel (GER) has been a member of the Munich Philharmonic as a violist since 1984 and beyond that applies himself to multifarious chamber music and solo projects, also including a free music context. Together with Michael Feller he founded the experimental duo Violet Cab in 2000.
Michael Feller (GER) was a member of Amon Düül 2 and later supervised the Studio for Electronic Music in Düsseldorf (composition class Günther Becker). He opened his own recording studio in Munich in 1996.
Børre Mølstad (NOR) finished his studies of jazz tuba and composition at the Royal Academy in London in 2002. He is a member of the London Improvisers Orchestra and of Frode Gjerstad's Circulasione Totale Orchestra.
http://knut.klingt.org
http://mobile-radio.net
http://peltzer-pv.de/
http://www.violetcab.de
Organised by t-u-b-e Klanggalerie
Friday, 07 November 2008, Unterfahrt
Brötzmann — Pliakas — Wertmueller
Peter Brötzmann (saxophones, clarinettes), Marino Pliakas (e-bass), Michael Wertmueller (drums)
Photo: © Oliver Heisch
Peter Brötzmann (b. 1941) is the embodiment of German free jazz. Despite this trademark, a large part of his musical work has taken place in the international field, starting from the trios with Fred van Hove, Han Bennink, Harry Miller and Louis Moholo through to the legendary Last Exit group with Sonny Sharrock, Shannon Jackson and Bill Laswell. Die Like a Dog and the Chicago-based Brötzmann Tentet are among his more recent projects, as is the trio with bassist Marino Pliakas and drummer Michael Wertmueller.
"The two young Swiss players are a perfect foil for Brötzmann. Both musicians think more in terms of structure than in terms of engergy. As though everything were preconceived, time and again they arrive at clear forms, comprised of rhythmic and sonic patterns, that are then charged with energy, telescoped and condensed, but almost never giving up the starting point completely. This is a challenge for Brötzmann, who like his fellow players has his best moments between these poles of structure and freedom." (Christian Rentsch)
Organised by Jazzclub Unterfahrt
Wednesday, 12 November 2008, t-u-b-e Klanggalerie
Hub & Zub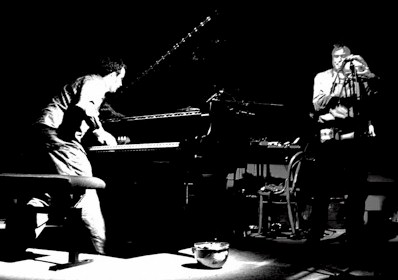 Philip Zoubek (piano), Paul Hubweber (trombone)
Using a mercurial exchange of ideas with lots of freedom and virtually unrestrained by conceptual and conventional limitations, Paul Hubweber and Philip Zoubek have dedicated themselves to the traditions of modernism and jazz, evolving their own musical cosmos since 2004.
As a composer, Philip Zoubek works within the context of his own formation Philz with Radek Stawarz (violin) and Matthias Muche (trombone). He is adept at traditional piano playing as well as at preparation techniques for extending the sonic possibilities of his instrument.
Paul Hubweber's trombone has been heard, partly for many years, with the likes of Claus van Bebber, Erhard Hirt, Paul Lytton, John Butcher, Markus Eichenberger and Jürgen Morgenstern. Current ensembles: PaPaJo with Paul Lovens and John Edwards, Schnack with electronics player Ulrich Boettcher and Markus Eichenberger's Domino Orchestra.
Organised by Offene Ohren e.V.
Thursday, 13 November 2008, t-u-b-e Klanggalerie
SIX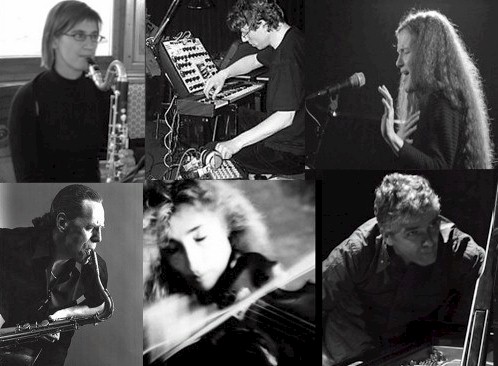 Anne Gillot (clarinet, flutes - photo: © Kathia Mettan/CGN), Thomas Lehn (analog synthesizer), Dorothea Schürch (voice and singing saw),
Urs Leimgruber (saxophone), Charlotte Hug (viola), Jacques Demierre (piano)
The music of SIX is based on free improvisation, on string and wind instruments, voices and electroacoustic sounds as well as on the energetic, acoustic and architectural properties of a given concert setting.
Their approach grows deliberately and uniquely out of the performance space, using and revealing its acoustic potential. Mutually affecting each other, music, sounds, noises and silence evolve through its dynamics.
The boundaries between instruments, techniques and disciplines are dissolved. This crossing of lines changes the listeners' perception, turning them into - knowing or unknowing - co-authors of an incomparable musical experience.
"The natural context provides a score which the players are unconsciously interpreting in their playing. Not a score that is explicitly articulated in the music and hence of no further interest to the listener as is generally the case in traditional music, but one that coexists inseparably with the music, standing side by side with it and sustaining it." (Cornelius Cardew).
The performance of SIX is kindly supported by the Swiss Arts Council prohelvetia

and the Fondation Suisa

.
Organised by Offene Ohren e.V.
Saturday, 15 November 2008, Unterfahrt
Mike Reed Loose Assembly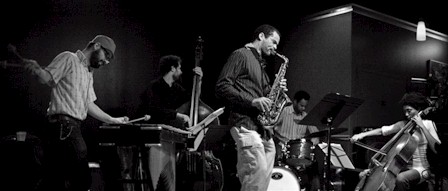 Jason Adasiewicz (vibraphone), Josh Abrams (bass), Greg Ward (alt saxophone), Mike Reed (drums, composition), Tomeka Reid (cello)
Born in Bielefeld in 1974 and raised in Evanston, USA, drummer Mike Reed has been part of Chicago's creative scene for more than a decade. In this context, he is not only known as a musician, but has also made his mark as an organiser and producer of many festivals and events. Time Out magazine called Mike Reed's band Loose Assembly "one of Chicago's most sublime jazz outfits" and Cadence magazine listed the band's debut Cd among the Top Ten Jazz CDs of 2007.
"... a perfect balance between unfettered creativity and formal aesthetics ... merges the austere reverence of chamber music with the scalding intensity of Chicago's historically ebullient free jazz, making a case for the re-evaluation of commonly held geographic prejudices. Although conventional wisdom dictates New York as the center of the jazz world, documents like this beg to differ." (Troy Collins, All About Jazz)
Organised by Jazzclub Unterfahrt
Tuesday, 25 November 2008, t-u-b-e Klanggalerie
The Weird Song Trio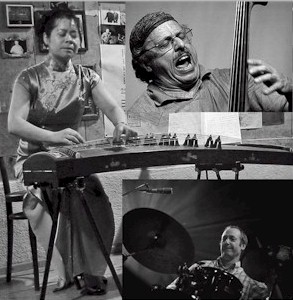 Xu Fengxia (guzheng, sanxian, voice), Joe Fonda (bass, voice) - photo: © Edward Molnar, Michael Vatcher(drums)
Song material from old China is the basis for these bizarre happenings crossing continental cultural boundaries. Xu Fengxia from Shanghai is a classically trained player of traditional Chinese instruments like the guzheng or the sanxian, rarely to be heard in these parts, a small, snakeskin-coated guitar.
Along with New York bassist Joe Fonda, whose roots are in the jazz of the 70's, she introduces strange perspectives on musical traditions.
A resident of Amsterdam, Californian Michael Vatcher acts as a clear-cut counterpart in this trio, constantly initiating new facets with his driving drumming.
Organised by Offene Ohren e.V.
Thursday, 04 December 2008, t-u-b-e Klanggalerie
«speak easy»
Short notice: There will be a change in instrumentation. Speak easy will perform as a trio. Martin Blume won´t be able to come to Munich. Our best wishes to Bochum!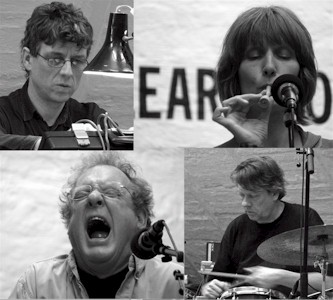 Thomas Lehn (analog synthesizer), Ute Wassermann (voice),
Phil Minton (voice), Martin Blume (drums)
Photos: first line right and second line: © Rolf Schoellkopf
With his project speak easy, percussionist Martin Blume embarks on a vocal extreme tour. Minton's sonorous voice is capable of producing disturbing sound collages, whereas Ute Wassermann's polyphonic technique makes the room resonate with harmonics. Coupled with Blume's finely nuanced percussive work and Thomas Lehn's extraordinary analogue synthesizer sounds, a physical immediacy of rare intensity is achieved.
speak easy is an organism rather than an ensemble, grown out of high musical competence and full of creative energy.
Organised by Offene Ohren e.V.